Dedicated to honoring our men and women in uniform by providing products of exceptional quality to resellers and veteran organizations.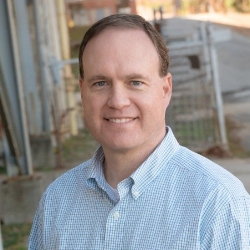 After ten years in the political arena, eight of which focused on military/Veteran casework and outreach, Jeff Holt rejoined the business world as Wholesale Manager for one of the largest military retail web stores in the United States, continuing to work with veteran groups and honoring America's heroes both in his work and philanthropy
Desiring to pursue both his personal and professional passion for honoring America's heroes, he founded "All About Honor," a wholesale business providing products to military and patriotic museum stores, the death care industry, art and frame shops, veterans groups and other resellers.
Winner of The Ray Geiger Award for Farmers Almanac Sales Excellence in 2018.
"I appreciate your patience and help with our marketing needs throughout the year. The Tech bags and journals were a big hit at the convention." Lynn
"Got the staff shirts. They look sick!! Thanks again." Tom
"We are soooooo appreciative of all you did for us and especially how you jumped in and helped tonight - everyone loved their t-shirts!! Again thank you so much - you are credit to your craft." Katie
"Hey Jeff! We love our shirts!! Thank you for all you do to make sure we're taken care of. I rate you 5 stars for Customer Service!" Kim
"Jeff. I received the decals. I love them! I think these will go right out the door in sales. Thank you so much." Paulette
"Thankful for great, fast, and amazing quality of work for our students to receive a wonderful gift to remember their Senior year. Thank you so much!" Greer Middle College Charter High School
"We received everything from our Geiger order and it all looks great. Thank you!" Tia
"Just wanted to say thank you again for making the promo gifts happen for Sugar Hill Kids! They look awesome and our families loved them! Thanks!" Rhonda
"You are the best!!!" Lori
"Just received the key chains. WOW! They look great!!" Heidi
"General Tiebout loved his challenge coins so you can be proud of your work!" Carl
"We received our shipment on Wednesday and we are thrilled with the custom Farmers' Almanacs! They are so professional looking and just beautiful in color… The Director and myself could not be happier with them… thanks again!" Valerie
"I wanted to send you a quick note telling you how much we love the Farmers' Almanacs! They have been a big hit. We will more than likely continue this annually." Dotty
"I just want to tell you that the coins that you made for me were a great suggestion… So again thank you for a job well done." Boomer
"It is wonderful doing business with you. We are selling a lot. Thank you for your great customer service." Judy
"Excellent, I really appreciate doing business with you." Al L.
"Thank you again for the customized ID tags. They look great!" Virginia War Memorial
"I received the flag cases today along with the American parade flag set. I am VERY impressed with the flag cases, they are beautiful!" Kelly H.
"Thanks a bunch and great - sold two frames and a desktop box! Love the products." Brandi S.
"I really really like what you do for our country and how you are a Godly man on the personal level." Mary C.
"I would like to order 4 Army and 2 Navy Frames for the Presidential Certificates. They were very impressive to me and more importantly the families we presented them to were extremely grateful as well as impressed." Tim L.
"I put up the frames you sent me recently, with the letter I received from President Bush and the other from the California Governor's Office and they were the perfect solution." Randy G.
"Wanted to make sure you are still my rep ….and that you knew I would not want to lose my favorite salesman." Sarah P.
"Jeff, I would like to say thank you on behalf of our Soldiers and Armed Forces personnel; I have received the boxes and the American Flag is the Best Flag that I've ever seen. Very well constructed and the stars are very appealing to its beauty." Gus
Defining moments that fueled Jeff's vision for "All About Honor" include:
Planning and implementing the first annual Armed Forces Day Parade in Greenville, South Carolina.

Forming South Carolina's 4th District "Korean War 50th Anniversary Commemorative Committee," one of the nation's largest Korean War Commemoration ceremonies where the Republic of Korea Korean War Medals and Commemorative Medallions were presented to over 500 veterans.

Participating as an Honor Flight guardian for two WWII Veterans through an amazing day in DC.

Meeting with leadership and negotiating multi-year contracts with Vietnam Veterans of America as well as Military Order of the Purple Heart.

Establishing the first "Normandy Medal of the Jubilee of Liberty" Ceremony in South Carolina, honoring over 150 D-day Veterans or their next of kin.

Coordinating the Service Academy Nomination Process for one of our US Senators.

Receiving the West Point Society of the Upstate South Carolina "Community Leadership Award."

Raising over $20,000 for Wounded Warriors.